Doctor Who S14E00 The Fourteenth Doctor is Here! - Children in Need (2023) Web-DL 1080p Aac Eng Sub Ita - artemix
Category

TV

Type

HD

Language

Italian

Total size

44.8 MB

Uploaded Byartemix2
Downloads

116

Last checked

Nov. 21st '23

Date uploaded

Nov. 21st '23

Seeders

28

Leechers

1


Doctor.Who.S14E00.The.Fourteenth.Doctor.is.Here! Children.in.Need.2023 [Web-DL.1080p.Aac.Eng.Sub.Ita-artemix]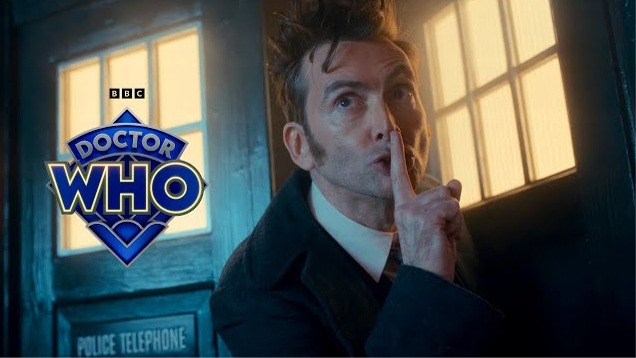 ..: SCHEDA :..
LINK IMDB: https://www.imdb.com/title/tt0436992/
PRODUZIONE: UK - 2023 - Episodio Speciale Childreen in Need
GENERE: Fantascienza
CREAZIONE: Casper Kelly


..: TRAMA - INFO :..

Episodio Speciale da inserire prima dello speciale che uscirà il 25 Novembre 2023.

Il Dottore fa atterrare accidentalmente il TARDIS in un momento cruciale nella creazione dei suoi nemici più letali...


Special episode to be inserted before the special that will be released on November 25, 2023.

The Doctor accidentally lands the TARDIS at a pivotal moment in the creation of his deadliest enemies...


..: SCREENSHOT :..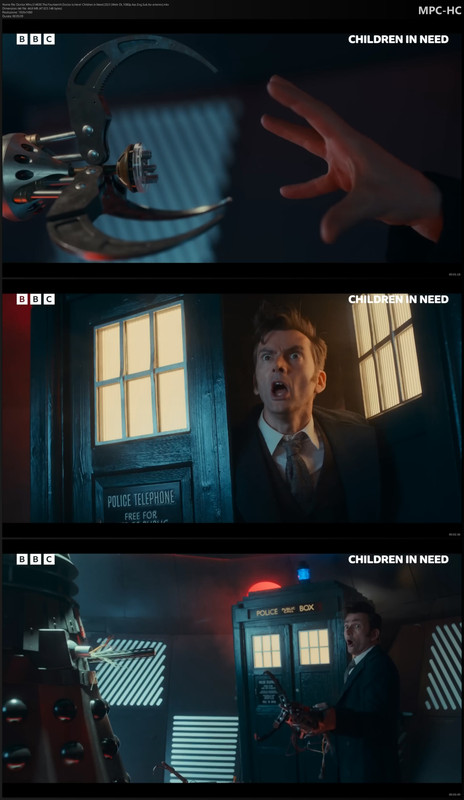 ..: DATI TECNICI DEL FILE :..

[ Info sul file ]

Nome : Doctor.Who.S14E00.The.Fourteenth.Doctor.is.Here! Children.in.Need.2023 [Web-DL.1080p.Aac.Eng.Sub.Ita-artemix].mkv
Data : Mon, 20 Nov 2023 08:02:24 +0100
Dimensione : 47,023,148 bytes (44.844769 MiB)


[ Magic ]

Tipo file : Matroska data
Tipo file : EBML file, creator matroska


[ Info generiche ]

Durata : 00:05:09 (309.011 s)
Contenitore : matroska
Production date : Mon, 20 Nov 2023 08:02:23 +0100
Totale tracce : 4
Traccia n. 1 : video (V_MPEG4/ISO/AVC) {eng}
Traccia n. 2 : audio (A_AAC) {eng}
Traccia n. 3 : subtitle (S_TEXT/UTF8) [sub by artemix] {ita}
Traccia n. 4 : subtitle (S_TEXT/UTF8) {eng}
Muxing library : libebml v1.4.4 + libmatroska v1.7.1
Writing application : mkvmerge v78.0 ('Running') 64-bit


[ Dati rilevanti ]

Risoluzione : 1920 x 1080
Larghezza : multipla di 32
Altezza : multipla di 8
DRF medio : 13.530806
Deviazione standard : 1.405944
Media pesata dev. std. : 0.83146


[ Traccia video ]

Codec ID : V_MPEG4/ISO/AVC
Risoluzione : 1920 x 1080
Frame aspect ratio : 16:9 = 1.777778
Pixel aspect ratio : 1:1 = 1
Display aspect ratio : 16:9 = 1.777778
Framerate : 25 fps
Dimensione stream : 41,977,951 bytes (40.033294 MiB)
Durata : 00:05:09 (308.96 s)
Bitrate (bs) : 1086.948498 kbps
Qf : 0.020967


[ Traccia audio ]

Codec ID : A_AAC
Freq. campionamento : 44100 Hz
Canali : 2
Dimensione stream : 4,944,446 bytes (4.715391 MiB)
Tipo di bitstream (bs) : AAC Null
Frames (bs) : 0
Durata : 00:00:00 (0 s)
Chunk-aligned (bs) : Sì
Freq. campionamento (bs) : 0 Hz
Modo (bs) : unknown


[ Bitstream video ]

Tipo di bitstream : MPEG-4 Part 10
User data : x264 | core | 155 | r2901 | 7d0ff22
User data : 13620682609804911040
SPS id : 0
 Profile : High@L4
 Num ref frames : 3
 Aspect ratio : Square pixels
 Chroma format : YUV 4:2:0
PPS id : 0 (SPS: 0)
 Tipo di codifica entropica : CABAC
 Weighted prediction : P slices - explicit weighted prediction
 Weighted bipred idc : B slices - implicit weighted prediction
 8x8dct : Sì
Totale frames : 7,724
Drop/delay frames : 0
Frames corrotti : 0

P-slices : 3254 ( 42.128 %) ########
B-slices : 4403 ( 57.004 %) ###########
I-slices :  67 (  0.867 %)
SP-slices :   0 (  0.000 %)
SI-slices :   0 (  0.000 %)


[ Analisi DRF ]

DRF medio : 13.836743
deviazione standard : 2.218897
max DRF : 29

DRF<8 :   0 (  0.000 %)
DRF=8 :  22 (  0.285 %)
DRF=9 :  13 (  0.168 %)
DRF=10 :  70 (  0.906 %)
DRF=11 : 1047 ( 13.555 %) ###
DRF=12 : 575 (  7.444 %) #
DRF=13 : 624 (  8.079 %) ##
DRF=14 : 3141 ( 40.665 %) ########
DRF=15 : 1983 ( 25.673 %) #####
DRF=16 :  23 (  0.298 %)
DRF=17 :   6 (  0.078 %)
DRF=18 :  12 (  0.155 %)
DRF=19 :  16 (  0.207 %)
DRF=20 :  17 (  0.220 %)
DRF=21 :   7 (  0.091 %)
DRF=22 :  19 (  0.246 %)
DRF=23 :  31 (  0.401 %)
DRF=24 :  34 (  0.440 %)
DRF=25 :  26 (  0.337 %)
DRF=26 :  27 (  0.350 %)
DRF=27 :  14 (  0.181 %)
DRF=28 :  13 (  0.168 %)
DRF=29 :   4 (  0.052 %)
DRF>29 :   0 (  0.000 %)

P-slices DRF medio : 12.746466
P-slices deviazione std. : 2.282306
P-slices max DRF : 29

B-slices DRF medio : 14.704293
B-slices deviazione std. : 1.691449
B-slices max DRF : 29

I-slices DRF medio : 9.776119
I-slices deviazione std. : 1.708809
I-slices max DRF : 17


[ Analisi DRF (corretta) ]

Fine dei titoli di coda : 00:04:47 (286.96 s) - frames ignorati: 550

DRF medio : 13.530806
deviazione standard : 1.405944
max DRF : 15

DRF<8 :   0 (  0.000 %)
DRF=8 :  22 (  0.307 %)
DRF=9 :  11 (  0.153 %)
DRF=10 :  66 (  0.920 %)
DRF=11 : 995 ( 13.870 %) ###
DRF=12 : 564 (  7.862 %) ##
DRF=13 : 614 (  8.559 %) ##
DRF=14 : 3090 ( 43.072 %) #########
DRF=15 : 1812 ( 25.258 %) #####
DRF>15 :   0 (  0.000 %)

P-slices DRF medio : 12.39275
P-slices deviazione std. : 1.278244
P-slices max DRF : 15

B-slices DRF medio : 14.424464
B-slices deviazione std. : 0.494261
B-slices max DRF : 15

I-slices DRF medio : 9.634921
I-slices deviazione std. : 1.472516
I-slices max DRF : 13

Rapporto creato da AVInaptic (01-11-2020) in data 20-11-2023 17:49:23
Files:
Doctor.Who.S14E00.The.Fourteenth.Doctor.is.Here! Children.in.Need.2023 [Web-DL.1080p.Aac.Eng.Sub.Ita-artemix].mkv (44.8 MB)
Code:
udp://tracker.opentrackr.org:1337/announce
udp://tracker.0x.tf:6969/announce
https://trackme.theom.nz:443/announce
udp://discord.heihachi.pw:6969/announce
udp://fe.dealclub.de:6969/announce
udp://code2chicken.nl:6969/announce
udp://mail.realliferpg.de:6969/announce
udp://6ahddutb1ucc3cp.ru:6969/announce
udp://tracker.blacksparrowmedia.net:6969/announce
http://tracker.files.fm:6969/announce